The Mysteries of the Apple Product Cycle
The announcement of the iPad 3 iPad HD new iPad has come and gone, and the overwhelming chatter on the web sounds a bit disappointed. This whole situation is all too reminiscent of the launch of the iPhone 4S. I, much like the rest of the world, was a bit underwhelmed by the iPhone 4S. I thought for having year and a half period of time elapse between the two iPhone releases, I expected more. People apparently feel the same with the release of the new iPad. Strangely (or not?), though…I am satisfied.
I've begun to view these mobile products in a different light than in the past. The problem with the general public right now, is that we are all expecting magical to be released on a yearly cycle. Problem with that: we already have a pretty darn good idea of what to expect, given the insane amount of rumors that are abound prior to any Apple product release. Obviously, this takes some of the magic out of a product launch.
But that is not all. Apple is the company that has revolutionized so many areas of consumer electronics. iPod. iPhone. iPad. One could even argue that the iMac changed the idea of what a 'desktop' is. The original launch of each of these truly was amazing and changed the entire industry. However as the fickle little consumers we are, we expect this sort of revolution each time an Apple exec takes the stage at one of these keynote events. Sorry to break it to you world…the times are changing.
When word first broke that Apple was dropping the numbering system on their iPad product line, it caught me off guard, and even confused me. I couldn't figure out why…maybe this is a small update and the iPad 3 will come out in the fall? Who knows? But then it made perfect sense. These mobile devices like the iPad and iPhone are no different than the iMac or MacBook. My laptop is not the MacBook 7. It's just the MacBook. When they release a "new" version, it's still just the MacBook…only updated and better. Even when they made the major transition in their MacBook line from the black and white plastic to the sexy aluminum unibody back in 2008. It was still the MacBook! So this is exactly the path they are taking with the iPad, and presumably with the iPhone, too.
Suffice to say, we should be perfectly happy when Apple updates these products. No need to get upset that it didn't blow your mind. It is simply an update. Naturally, some updates will be better than others, but that is how technology and business evolve. If anything, dropping the number from the tail of iPad may open the door to new versions of the iPad…iPad Mini, anyone?
Now, this article isn't trying to say that the magic from Apple is gone. People are just looking for this magic in the wrong place. As hard as Apple may push it, these upgrades to their major product lines are not revolutionary. The first iteration was, but not the subsequent 6 versions.
That said, I'm sure Apple does have some magic up their sleeves, and it goes by the name of the iTV. This is the product that will revolutionize TV as we know it. Okay…so maybe those are lofty expectations, but that is what the world of Apple rumors is saying. We try to imagine how it may function, but until we actually get our hands on it, we can only let our imaginations run wild. Furthermore, the inevitable release of the iTV will coincide with the major new product line launch that Apple has become accustomed to every few years.
2010: iPad
2008: MacBook Air
2007: iPhone
2004: iMac 5th Gen
2001: iPod
It's been a couple years now since a major release, and 2012 may be in line for the launch of the iTV. At this point, though, all we can do is start to embrace the upgrade…and hope to see more magic!
Piracy is the new radio. That's how music gets around … That's the radio. If you really want to hear it, let's make it available, let them hear it, let them hear the 95% of it.
An Apple Keynote Worth Forgetting…and Revisiting
Dear Readers,

I must begin this post with a warning: I initially wrote this article directly after the iPhone 4S keynote. As you may come to see, my emotions were raw, as I was slightly disgruntled, to say the least. Nevertheless, I wrote and wrote, until suddenly, I decided to stop and breathe.
Count me in as somebody who fell for all of the iPhone 5 rumors that have persisted since…well…the iphone 4 was released nearly a year and a half ago. As I followed along with some of the live blogs at today's Apple keynote, I was extremely surprised and disappointed when all that I got was an iPhone 4S.
Let me start my rant with a pretense: the iPhone 4 is a great phone. Even with the release of the new iPhone 4S, the 4 will remain one of the most popular phones in the history of mobile phones (aside from maybe the Razr). Internally, a great phone. Aesthetically, very pleasing. Economically, on par with comparable phones. All in all, the iPhone 4 was fantastic.
Now…the new iPhone 4S. Clearly, an iPhone 4 on steroids. It puts up some great specs that allow it to throw down with some of those other big boys bedazzled with '4G' speeds. That in itself, is worthy of a new phone. In terms of its external design, it went identical to the iPhone 4 (more specifically, for the CDMA version). Again, a solid choice given how beautiful a device the 4 was. Alright so beautiful exterior? check. Crazy fast interior? check. Awesome OS? check.
Well this all sounds fine and dandy and worthy of a new phone, right? Wrong.
When Apple revamps their existing products (see: Macbook Pro), they don't add an 'S' to it simply because they made it faster. These sort of updates happen all the time, but that's all they are…updates. What makes this iPhone 4S so much better that it receives an additional letter behind its name? I was never a fan of the name of the iPhone 3GS, and now the same can be said here. Adding an 'S' seems like a pretty cheap way out. What does it even stand for? Apple claims 'speed'. Okay…great. You made a faster phone. So what? That is EXPECTED of you. As time goes on, components get cheaper, and so you replace older, slower components for newer, faster ones all while keeping the price the same. That seems like a pretty common theme in technology, yet for some reason you deem it appropriate to call something entirely new, when it simply is just an update.
As I continue to write this and think more and more about what just happened today, I am realizing something. I'm not frustrated with the product itself. It is a great product through and through. What really frustrates me is the huge opportunity that Apple has missed.
It has been about 18 months since the release of the initial iPhone 4. One year rolled by, and not even a whimper from Apple about a new iPhone. This is a very un-Apple like move, shifting off of their standard 1-year refresh cycle. The general public was a bit confused, but life went on (barely), as people questioned what Apple had up their sleeve. Would they skip out on this entire year and push out the iPhone 5 in the Spring of 2012 (still a, yet unlikely, possibility)? Did they have some supply issues and are in turn forced to release the new iPhone a bit behind schedule? Was Apple going to completely get rid of the iPhone, stuff it inside a 7" iPad, and create that new "hook up" between the iPad and the iPhone, and call it the 'iDo'? (Okay, that last one was a not so funny joke, but you get my point) So over this past summer, some rumblings finally starting making their rounds on the good ole' internet.
The 'Teardrop' iPhone 5
The 'Awkwardly-colored Home Button' iPhone 5
The 'Now you see me, Now you don't' iPhone 5
(aka The 'Troubled Photoshop' iPhone 5)
Suffice to say, people got a bit invested in all of these rumors. One very ambitious man even created his own prototype!
I must say, this was especially impressive.
Regardless, there was so much insane hype about something that we are now forced to wait even longer for.
Readers,

As I'm sure you saw while reading this, I was a bit agitated. Because of that, I stepped back and decided to wait a couple days. As I'm sure you're aware, waiting those couple of days meant waiting until the passing of Mr. Steven P. Jobs. I was taken aback, and never got around to finishing this piece. I rejoin you now, written today, another look back on the iPhone 4S release.
So over a month has passed since the iPhone 4S' original announcement. I will tell you this, I am just as annoyed with the name as I was before. But I will go on to finish my point.
On that October 4 day, Apple let down a lot of people by only releasing an upgrade to their existing phone, as great as it was. Personally, I thought everyone was going to be so upset that Apple would sell a total of 14 devices and go bankrupt and never make another device. I did forget one key point, though…the fact that Apple has this world in the palm of its hand. When they come out with a new device, whatever it may be, people will buy it. So yes, the iPhone 4S had a spec jump and no aesthetic changes, so people bought it! In fact, they bought A LOT.
After this keynote, I was pretty skeptical as to whether Siri would really be something useful. While I have not had the chance to try it out, the numerous videos online show that it actual is a handy voice recognition system - one which doesn't require you to talk like a computer to communicate with a computer. I was also a bit befuddled over the fact why Siri was not part of the iOS 5 update for the iPad 2, considering it has very similar specifications (including the same A5 processor) as the iPhone 4S. Apple has also announced that Siri will not be making it's way to older iOS devices. Why would Apple withhold such a cool new feature from so many of their users. But then it hit me…it's because they need a reason for people to actually buy the new 4S! If they gave Siri to every user via a free download, I'm sure they would have lost a significant number of iPhone 4S sales. Although Apple has boatloads of money, this is not something they are willing to risk.
So…maybe there were some supply chain issues leading Apple to delaying the iPhone 5, and in turn releasing only an updated iPhone 4S. But with what they did have, I must say Apple has done it yet again. They created sales where sales maybe didn't even belong.
All that aside…this still is not the iPhone 5. It doesn't have 4G speeds. It doesn't have a new design. It doesn't have many remarkably new features not already available on other iOS devices. So even though the Consumer Reports recommends the iPhone 4S, I think I will be holding off on the iPhone 4S until the imminent release of the iPhone 5. And hey! I'm guessing the iPhone 5 will have Siri!
Amazon ready to light a FIRE
Well…November 15th is nearly upon us. You know what that means, right? That's right! The very first Wendy's restaurant was opened in Columbus Ohio back in 1969. But no, that is not the only thing coming up in a couple of days.
Amazon's new color multitouch tablet, the Kindle Fire is going to be released! While I may not be one of the early adopters (considering I already have a competitor's tablet…see: iPad), I am simply excited to see how it does out on the market! The early reviews of the device tout it as being iPad killer. I don't see it quite the same way.
Having an iPad, I will be the first to tell you it is a pretty cool device. When the original iPad was released I was skeptical whether there was even a need in the market for such a device. Low and behold, though, the late Steve Jobs (RIP) crafted that need, himself. Yes, there were tablets out on the market, but they were not geared towards the everyday consumer. The iPad redefined the mobile market, from smartphones to laptops. Now, everything now must adjust.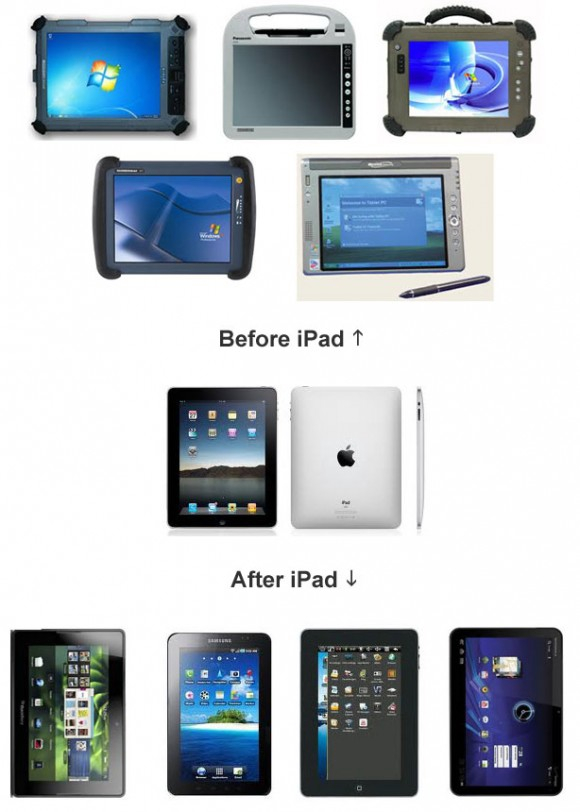 Amazon sat back quietly with its increasingly successful Kindle, and watched several big companies take Google's Android operating system and try to compete with the iPad. It is clear that Apple is the dominant force in the tablet market, considering even the most hyped of these devices ended up falling flat. Questions then arise: is the Android OS optimal for tablets? Are these companies like Motorola building a quality product? Why can nobody stack up to the iPad? All of these questions are answered with the simple fact that Apple has built up one of the most high quality brand images in the world. With that brand, they came out with a revolutionary product, and defined the initial market. They captured massive initial market share, and never looked back.
This again brings us back to Amazon. What makes them think they will be any different than the existing Android tablets out there that didn't stand a chance? Well…it's because they realize Apple has complete control, and they aren't even going to try to test those waters. While the iPad and Kindle Fire may look like similar products geared towards similar users, they aren't.
We'll start with the most basic difference: their price points. The iPad starts out at $499 while the Fire opens with a price of $199. Obviously, Amazon is opening themselves up to the potential sales of so many more new customers who are not ready to dish out 5 Benjamins for this type of device. How is Amazon able to make their product so cheap, though? Well, that leads us to the hardware side of things.
There is no way around it…the iPad is far and above the greater product based on its specifications. It's faster, thinner, lighter, more powerful, and it's pretty smart. The Fire, on the other hand, looks a lot like a stripped down Blackberry Playbook. Maybe Amazon did Blackberry a favor and bought off some of their components? It doesn't have a camera, internally it's lacking, externally, it's nothing flashy. But the thing is, none of this matters. What it really comes down to, is what you can do with the device.
Apple targets their iPad at nearly all types of people: business people, educators and students, healthcare professionals, parents…all summed in in this delightful iPad 2 commercial.
Apple is able to swing this product any way they want. They say the iPad is so great because you can do anything on it. The truth is pretty close to that, too! Considering the myriad of apps available on the App Store, the opportunities are endless. Amazon is taking a slightly different route, and being a bit more general. They aren't saying the product is great for teachers or doctors or anyone in specific. They are gearing this product to anyone who likes to consume entertainment. To me, that is the key difference between these two devices. Okay, maybe that sounds like both companies are trying to appeal to everyone, but hear me out. With the iPad, you have several apps made by Apple, themselves, where users can create. This includes Pages, Keynote, Numbers, Garage Band, and numerous other productivity apps made by 3rd party developers. While Kindle Fire users will undoubtedly have access to these sorts of apps from the Android App Store, the device is simply built around the users consuming the things they love. Whether it's watching a movie, reading a book, listening to music browsing the web…this device is built for all of that, and nothing more.
The reason why this works perfectly for Amazon is because they already have most of the backend framework in place. They have the Amazon mp3 store for music. They have the Kindle for reading. You can download movies and TV shows directly from Amazon. And now they have developed Amazon Silk, a project that apparently makes browsing the web smooth and fast, built specifically for the Kindle Fire. That is the great thing that Amazon is done here. They took a solid operating system in Android, tore it down, and built it from the ground up just for their won device, so that everything that a user does, is seamless. So maybe the internals are not exceptional. Well that doesn't matter when you have engineers who designed the software to perfectly match the hardware. In a way, this is exactly what Apple does with every product. In fact, I wouldn't be surprised to see more companies follow Amazon and make drastic modifications to the open-source Android OS.
The end result, is a product that is simple. It gives people what they want for a price they don't mind paying. They get the product in the users' hands, and then in turn, these users will purchase apps and movies and books and everything…sending what is expected to be INSANE profits back Amazon's way. Ultimately, you could argue that the Kindle Fire is not going to have a shot at competing with Apple and it's iPad. But targeting a unique and distinct segment, I expect to see Amazon reaping the benefits in the coming years.
The question now remains: how hot will Amazon's FIRE burn?
Your time is limited, so don't waste it living someone else's life. Don't be trapped by dogma — which is living with the results of other people's thinking. Don't let the noise of others' opinions drown out your own inner voice.
Steven P. Jobs, February 24, 1955-October 5, 2011
Is Apple's Technology Really that Far Ahead of its Competitors?
Gizmodo recently ran an article titled Is Apple So Far Ahead Because They Use Tech From the Future? Essentially, the article was regarding a post on Quora which theorized that Apple is able to have so much success because they gain access to advanced technology before any other companies can get their hands on it.
The author makes some good points:
What Apple does is use its cash hoard to pay for the construction cost (or a significant fraction of it) of the factory in exchange for exclusive rights to the output production of the factory for a set period of time (maybe 6 - 36 months), and then for a discounted rate afterwards. This yields two advantages:



Apple has access to new component technology months or years before its rivals. This allows it to release groundbreaking products that are actually impossible to duplicate. Remember how for up to a year or so after the introduction of the iPhone, none of the would-be iPhone clones could even get a capacitive touchscreen to work as well as the iPhone's? It wasn't just the software - Apple simply has access to new components earlier, before anyone else in the world can gain access to it in mass quantities to make a consumer device. One extraordinary example of this is the aluminum machining technology used to make Apple's laptops - this remains a trade secret that Apple continues to have exclusive access to and allows them to make laptops with (for now) unsurpassed strength and lightness.
Eventually its competitors catch up in component production technology, but by then Apple has their arrangement in place whereby it can source those parts at a lower cost due to the discounted rate they have negotiated with the (now) most-experienced and skilled provider of those parts - who has probably also brought his production costs down too. This discount is also potentially subsidized by its competitors buying those same parts from that provider - the part is now commoditized so the factory is allowed to produce them for all buyers, but Apple gets special pricing.
All that said…I'm not sold. Sure, there is no denying that some of Apple's technologies may be more advanced than those of other companies, but in general, I don't think that is the case. Anybody who has ever purchased a computer and looked at Apple is sure to have said, "Wow, I can get a PC with the EXACT same internal specs as a Mac, but pay hundreds of dollars less!" In fact, this is true. PC's are significantly cheaper than their equivalent Mac counterparts; however with a Mac, you are paying for the operating system which is preferred by some users (but that is another argument for another day). I personally have a few theories as to why Apple APPEARS to be years ahead of its competitors.
First off, Apple is not afraid to stake a claim in a technology that is new and unproven. For any smaller company with not as much capital as Apple, this could be a risky venture. I can imagine that this would require loads of money to pay for such a new technology. But for Apple, this sort of investment can only be beneficial. If the technology doesn't catch on (sorry, I don't have any good examples…maybe because the technology doesn't make it to consumers), Apple simply loses some money, which for them is likely to be pocket change. On the other hand, though, if the technology does catch on (as Thunderbolt appears to be doing so), then Apple has a clear advantage over its competitors, and can reap the benefits for years to come. Moreover, the technologies that Apple invests heavily in are probably available for any other company to dump loads of money in, but not many companies have the financial flexibility (or the cajones) that Apple has.
The second reason why Apple is so successful: They know how to market their products. As I previously mentioned, Apple's computers are significantly more expensive than a comparable PC, however, there seems to be a great demand for them, nonetheless. Where did this demand come from, though? Well…the demand came from Apple, itself!
Lets go back to 1998 when the very first iMac was released. Do you remember that one? The iMac G3?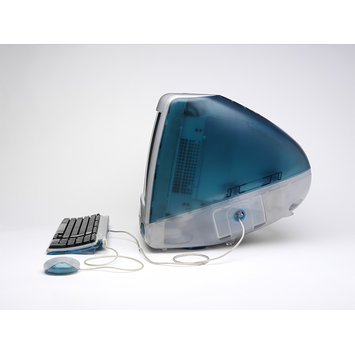 ahhh yes…that's the one. It sure took awhile for the whole idea of an iMac to catch on, though. For me, the turning point was when Apple began running their "Get a Mac" ad campaign, that ran from May 2006-October 2009. Sure, I'm not about to deny that these campaigns were kind of low (I've never been a huge fan of ads that attack a competitor), but at the end of the day…these ads worked. Over the course of this ad campaign, Apple's stock rose from a respectable $71.89 up to $188.50. Of course, a large reason for this jump is also due to many other factors (the major success of the iPod, being one of them), but nonetheless, Apple was just getting started.
I'm not about to go follow my Apple fanboy tendencies and say that they make much better products than any other company out there, because that'd be a lie. There are plenty of good products out there in the world of PC's and mobile devices that even surpass Apple, but there is one thing that these other guys are lacking: Steve Jobs.
There are not many other people in this world that know how to run a company like Steve Jobs does. There is a lot to be said about the man, himself, but I'll leave that for his biography due out in the fall. The point to be taken here, though, is that Steve Jobs is one heck of a marketer. If there were ever a time for the expression "he could sell ice to an eskimo", now would be that time. The key skill that Apple possesses is that they know who there market is, and they target that market superbly. There are numerous other great companies out there who make great products but don't see nearly the same success that Apple does simply because they fail to define a target market.
So now back to the main question of the day: Is Apple's technology really that far ahead of its competitors? In my opinion…no. But Apple sure knows what it takes to get ahead.